Kindness Art Display: Year 4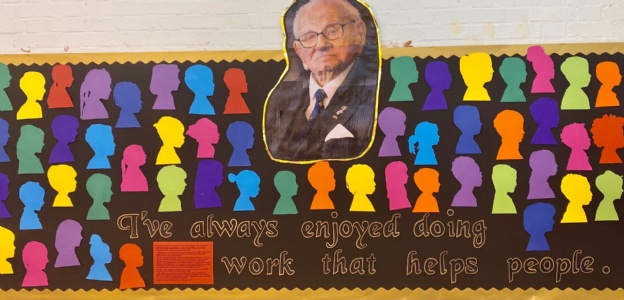 Year 4 children create artwork inspired by a kind figure who has positively impacted society.
This year at Shacklewell we are focussing on Acts of Kindness and are encouraging the children to make connections between their actions and the wider impact on the community.
The artwork from Yearl is centered on Sir Nicholas Winton. The children learnt about the banker and humanitarian who demonstrated great kindness by organising the rescue of 669 children from Nazi-occupied Czechoslovakia.
To create the striking art installation, Year 4 took pictures of their side profiles and carefully cut them out to create the silhouettes you see displayed. The intention behind this was to represent the children Sir Nicholas saved and encourage the children to feel empathy as they immersed themselves in the art. Do you recognise any of these side profiles?