Spotlight on Readers in Shacklewell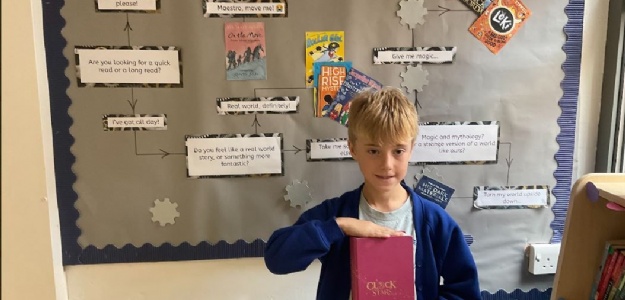 There are so many passionate and engaged readers in our school, so I was inundated with choice when I wanted to speak to some of them about their current book choice and reading habits. Here is just a small snapshot of the reading that goes on at our school.
Sky reader, reading The Singing Mermaid by Julia Donaldson
Our reception child was so excited to talk to me about all things reading, in particular her current Julia Donaldson favourite. Her favourite part of the book is when the mermaid goes back to the sea. Her favourite place to read is at home with her parents. In particular, she loves reading her space book with Daddy, who asks her questions about all the planets, to which she can reply with silly answers to make him laugh!
1W readers reading There's a Lion in My Cornflakes by Michelle Robinson and Jim Field
When asked why they love this book so much, both children replied immediately with "it's so funny!". For one child, the sheer madness of the crocodile in the bathtub is what makes it one of his favourites, while the other can't stop laughing at the tiger who gets cornflakes stuck all over his face. Both children agreed that reading is the ultimate boredom-crusher.
A 2S reader reading Charlie Cook's Favourite Book by Julia Donaldson
For our 2S reader, her favourite place to read is in our school library, which she finds peaceful and bright. The reason this rhyming book is one of her all time favourites is because she thinks it is really creative and unique.
A 3S reader reading Varjak Paw by S. F. Said
This year 3 child was introduced to Varjak Paw by her friend. The pair are consistently recommending books to each other, and the most recent instalment is certainly not disappointing! This child was initially drawn to this book as she loves cats. Her prediction is that the cat will stop fighting soon. She can't wait to see if her prediction is right!
A 4W reader reading Loki by Louie Stowell
Our year 4 reader is normally a fan of non-fiction, so she was particularly excited to share this fiction storybook with me. In fact, she is such a fan that her mum has already ordered her the sequel and it should be arriving soon - she can't wait! Her favourite character is a horse called Rusty. When asked why, she told me that her dad's dog was also called Rusty.
A 5S reader reading Bunny vs Monkey by Jamie Smarts
This year 5 child was recommended this book by his cousin, who thought that he would enjoy the cartoon-style illustrations and the humour. His cousin was right! This reader told me he is enthralled by the adventure and the humour and that he can't wait to find out what happens in the next fight scene. After he has finished, this reader is keen to read more graphic novels.
A 6W reader reading A Clock of Stars by Francesca Gibbons
Although this reader is only on chapter five, but he tells me that he is hooked already. The tension and ambiguity is what is keeping him so enthralled, as our child claims that the author, so far, is giving very little away. This year 6 child told me that his favourite place to read this book is his bedroom, where there are no distractions and he can completely focus on the text.