Kindness Art Display: Pre-School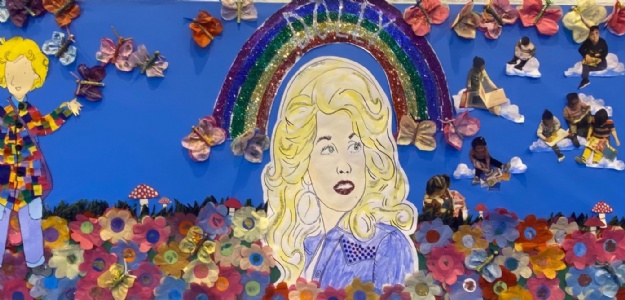 Pre-school children create artwork inspired by a kind figure who has positively impacted society.
This year at Shacklewell we are focussing on Acts of Kindness and are encouraging the children to make connections between their actions and the wider impact on the community.
The artwork from pre-school is centred on Dolly Parton; a popular figure who has exhibited kindness and impacted the lives of many. Her Imagination Library Programme delivers more than 40,000 free books every month to children living in communities across the UK. Her 75th birthday wish was also a call for kindness.
The colourful display is inspired by Dolly Parton's book Coat of Many Colours, which the children loved reading this half-term. Images of them enjoying the book form part of the art installation. The lovely flowers, butterflies and coat that you can see on the display were all handmade by the children.