Kindness Art Display: Year 1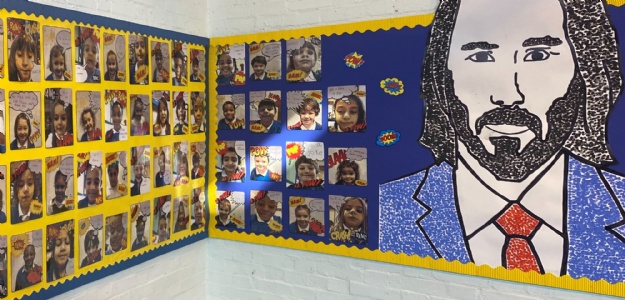 Year 1 children create artwork inspired by a kind figure who has positively impacted society.
This year at Shacklewell we are focussing on Acts of Kindness and are encouraging the children to make connections between their actions and the wider impact on the community.
Keanu Reeves is the focus of Year 1's art display. The famous actor secretly funds children's hospitals and cancer research, is generous to those he works with and is always polite to fans. He promotes positivity and kindness and his inspiring words 'I don't want to be part of a world where being kind is a weakness' are incorporated into the art display.
The display showcases the incredible pop art portraits of the year 1 children, which are Lichtenstein inspired. The children cleverly made use of what they learned in their previous art topics, by using primary and secondary colours. They also used their wonderful writing skills to further personalise their portraits with comments about what kindness means to them.