Kindness Art Display: Year 2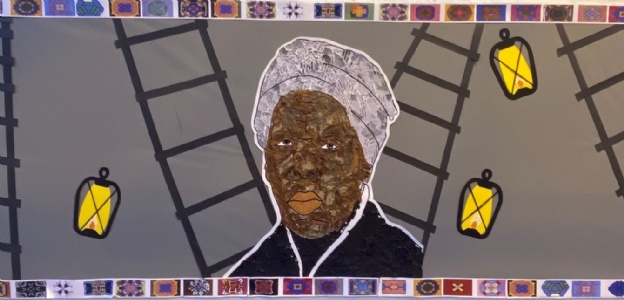 Year 2 children create artwork inspired by a kind figure who has positively impacted society.
This year at Shacklewell we are focussing on Acts of Kindness and are encouraging the children to make connections between their actions and the wider impact on the community.
The central figure of Year 2's art display is Harriet Tubman. The political activist was born enslaved but escaped and subsequently rescued many others from slavery using the Underground Railroad. She demonstrated extreme kindness and bravery.
The border of the art installation is created with the children's interpretation of Freedom Quilt Blocks. These are blocks on quilts which enslaved people used to communicate secret and important messages while trying to escape from slavery. If you look closely at Harriet Tubman's headscarf you will see a creative collage of news articles about the brave abolitionist.